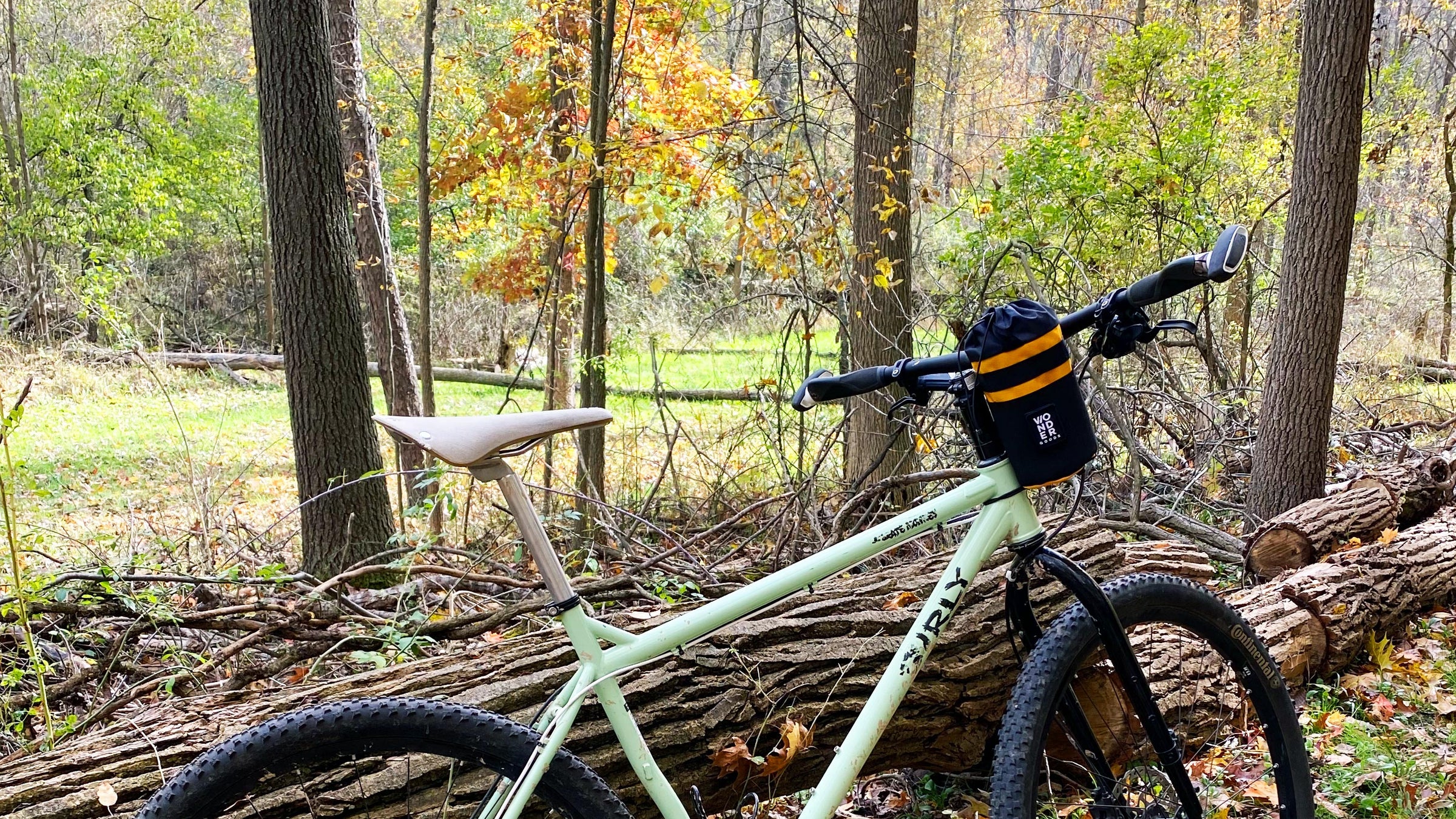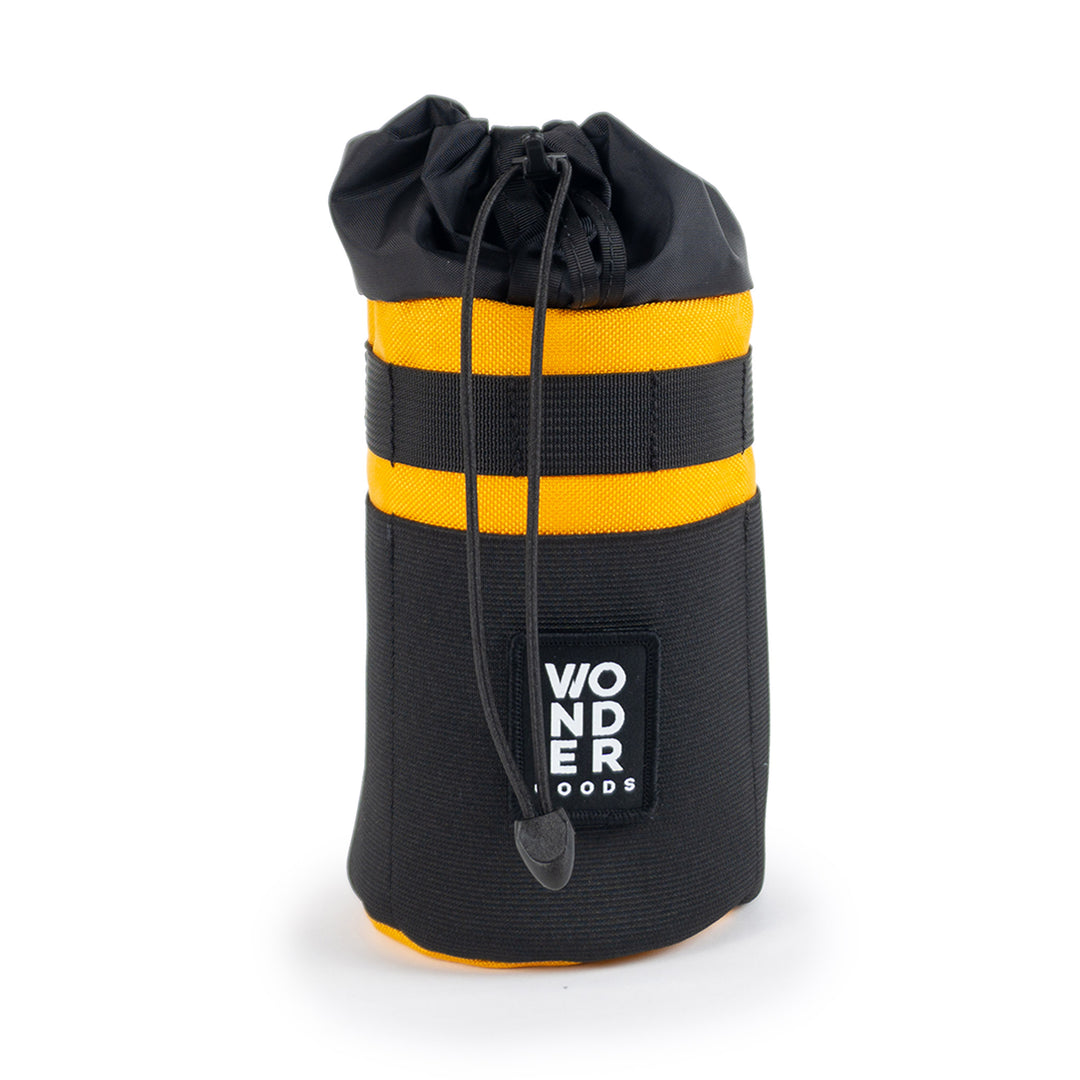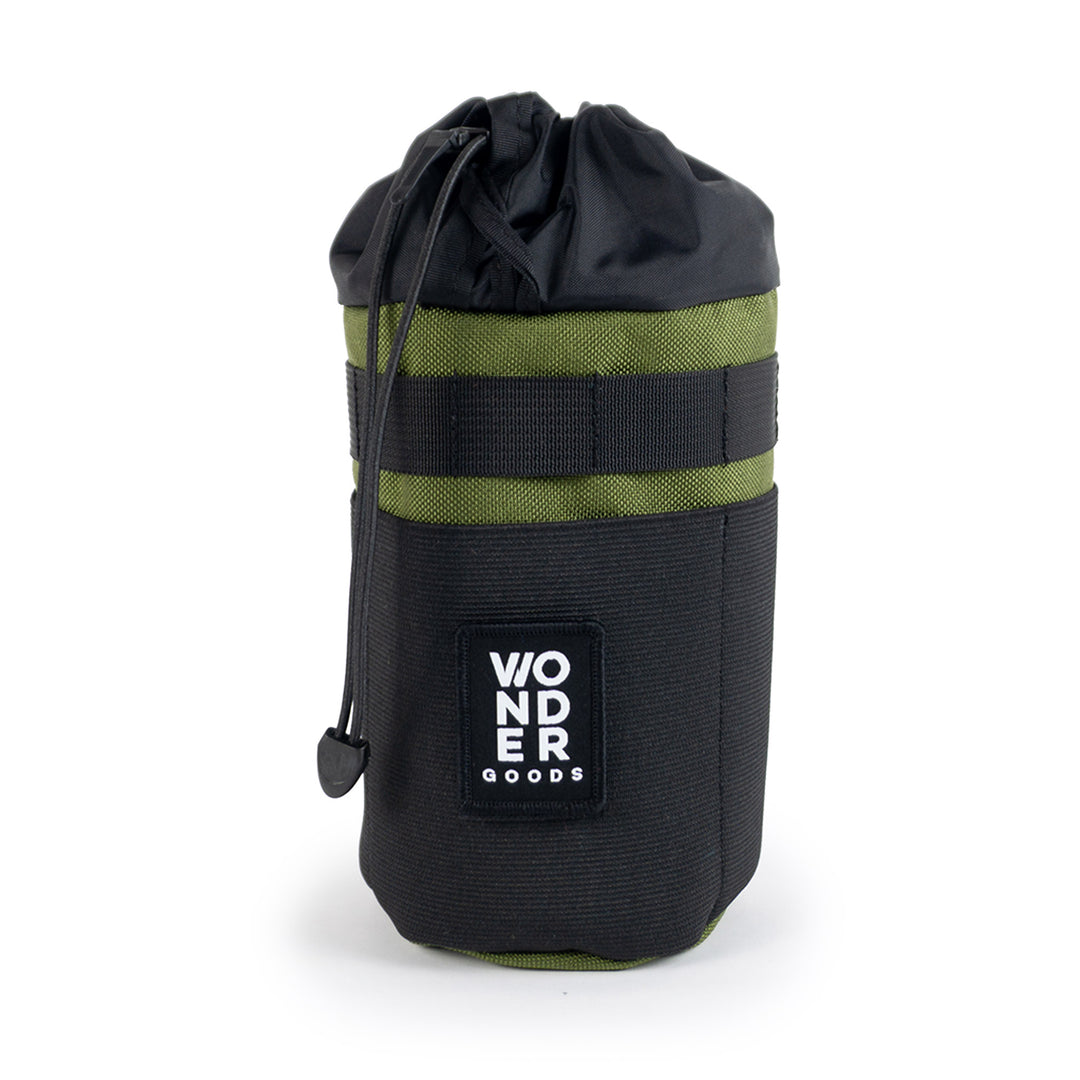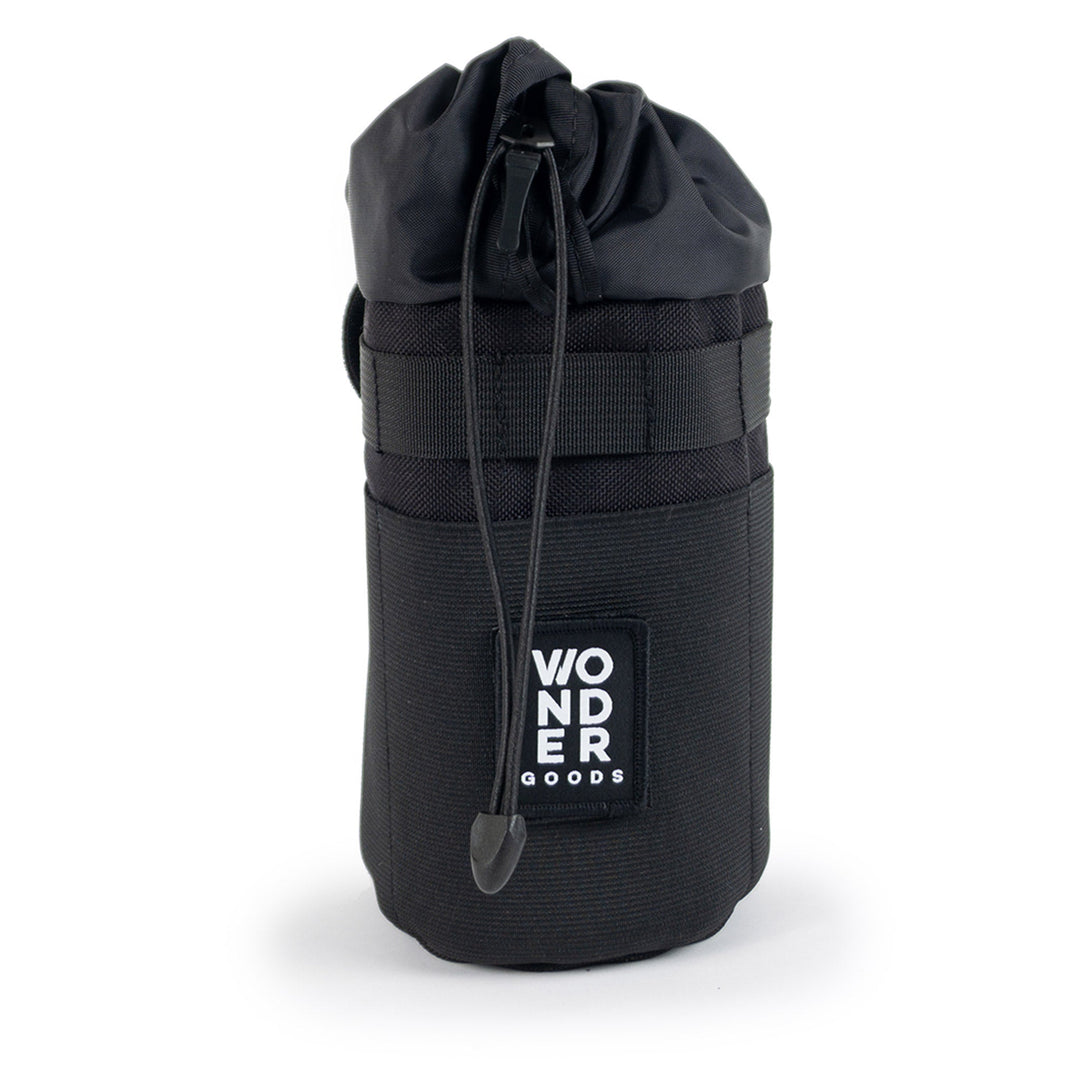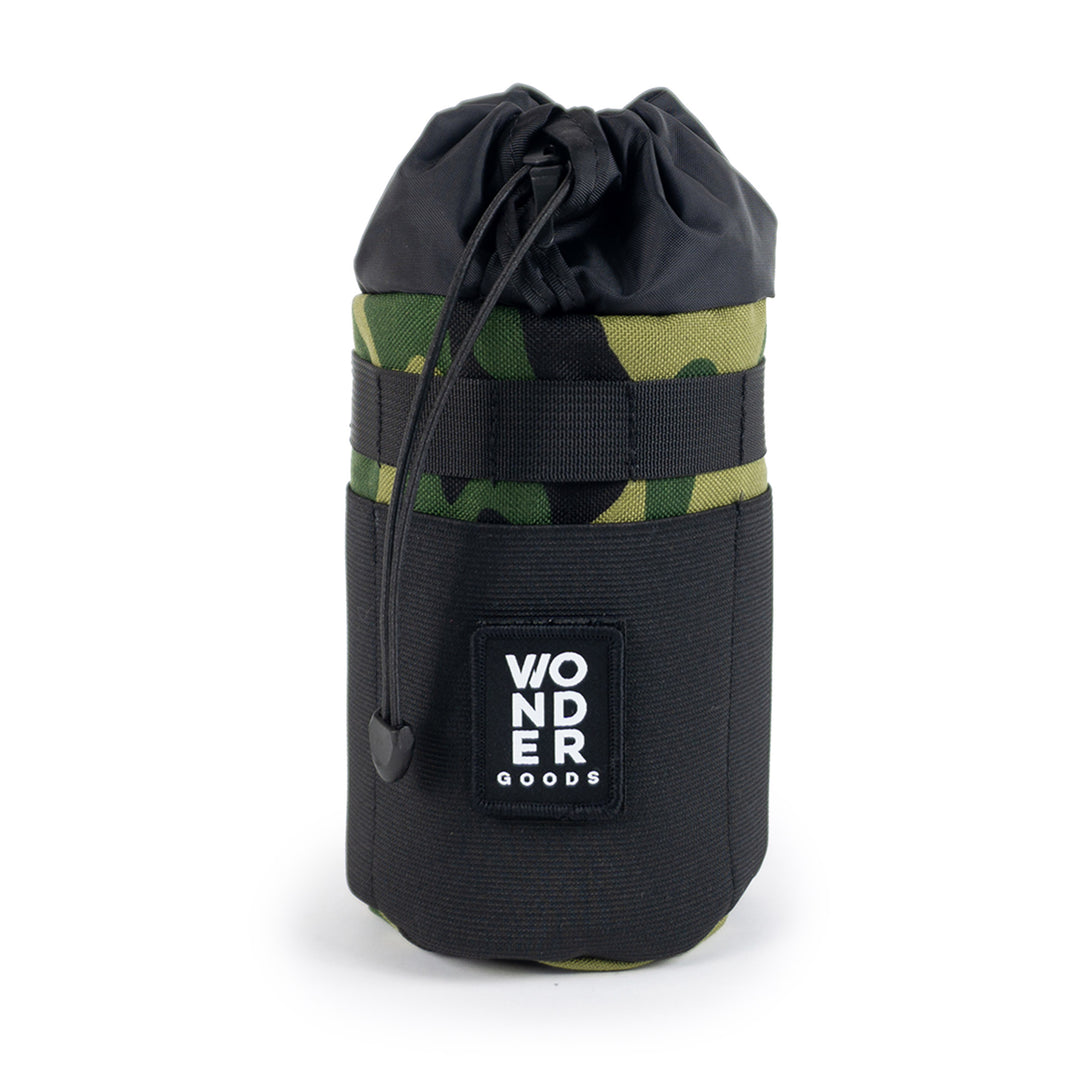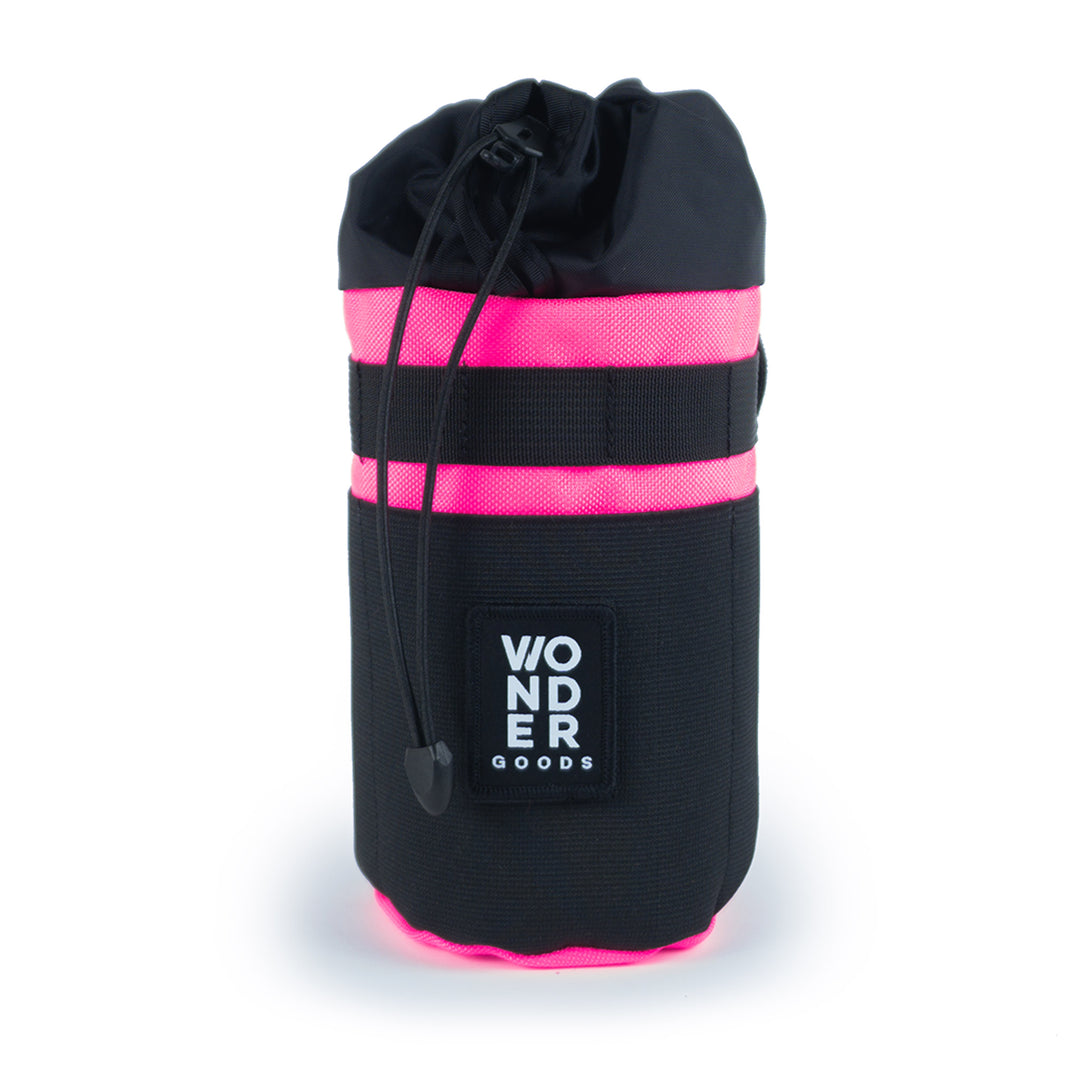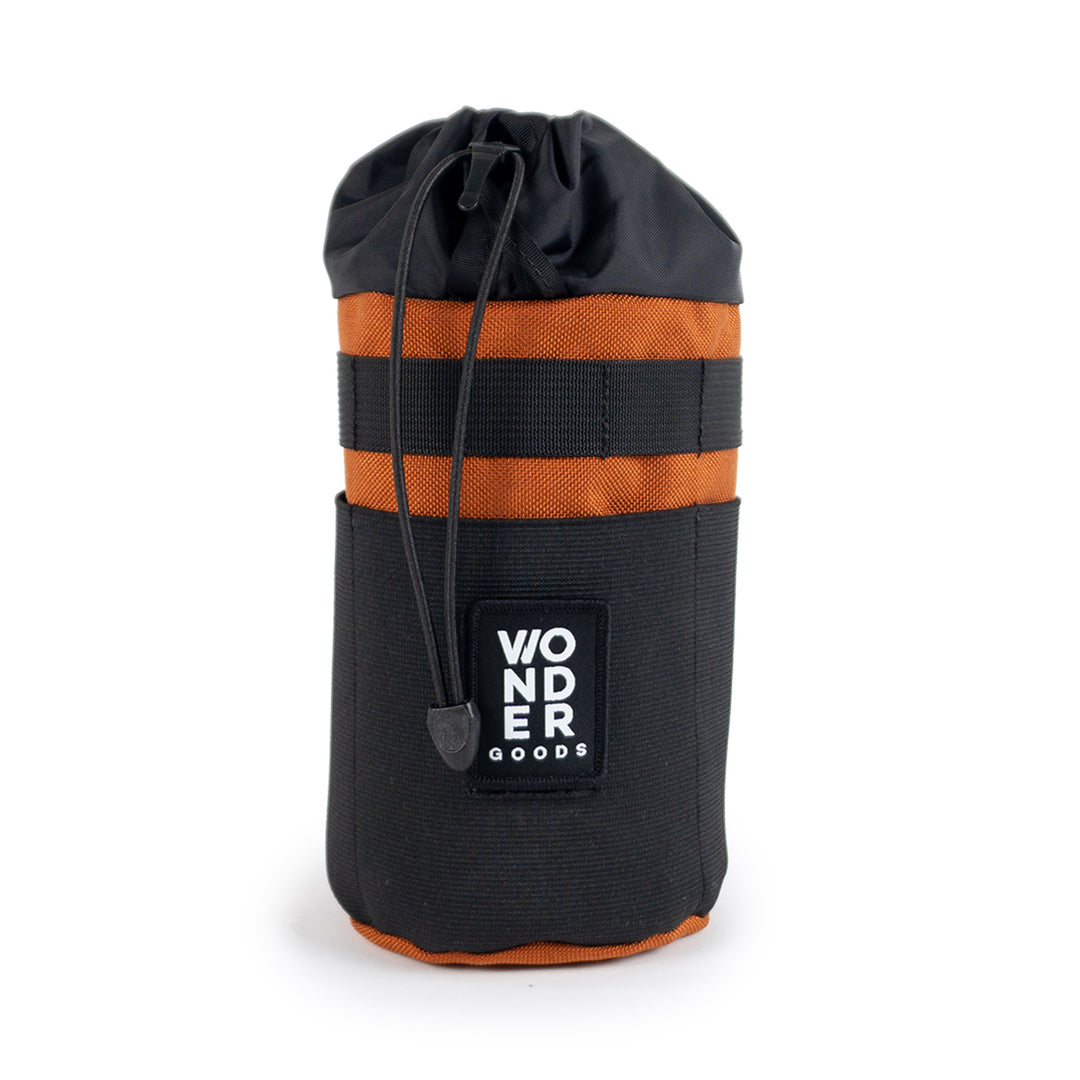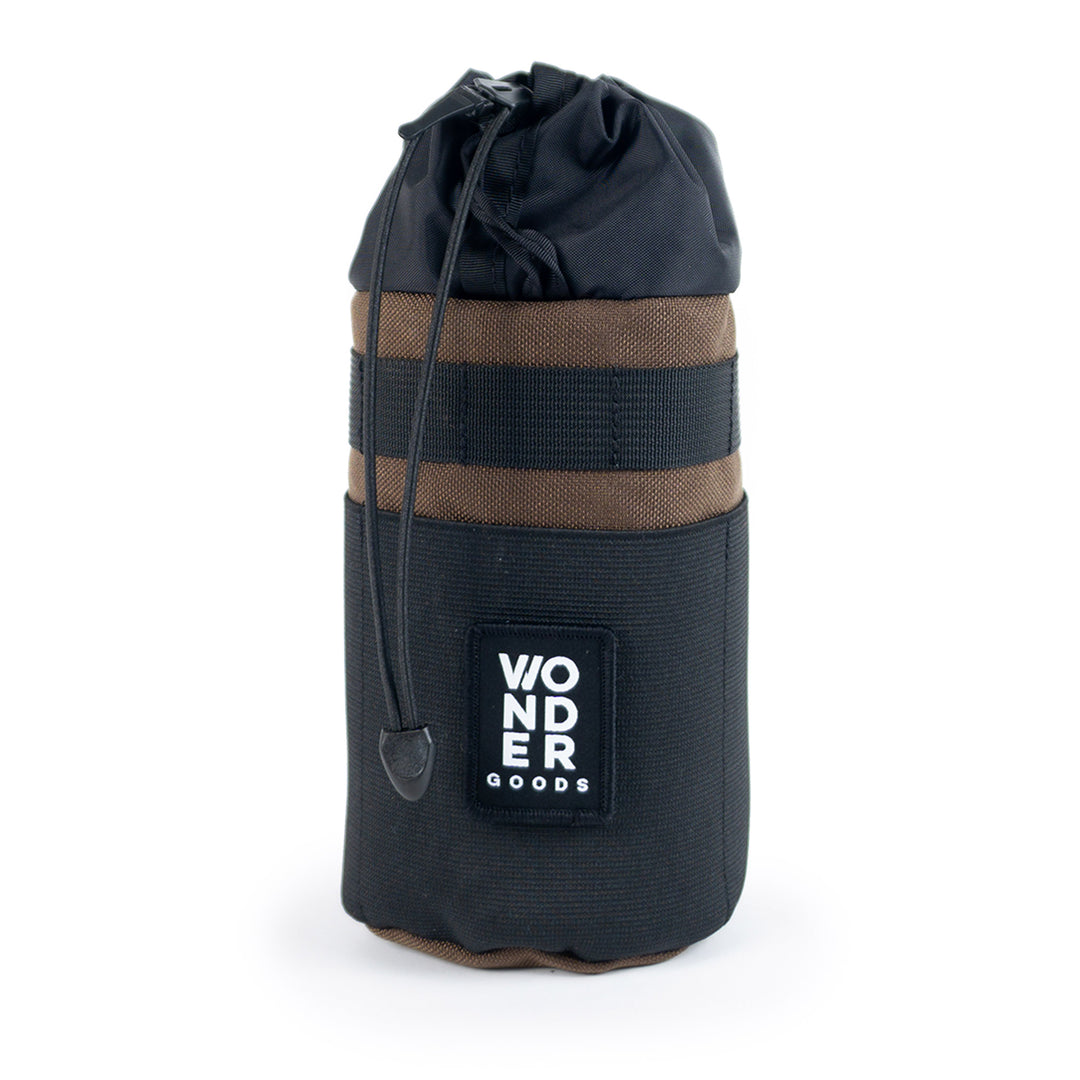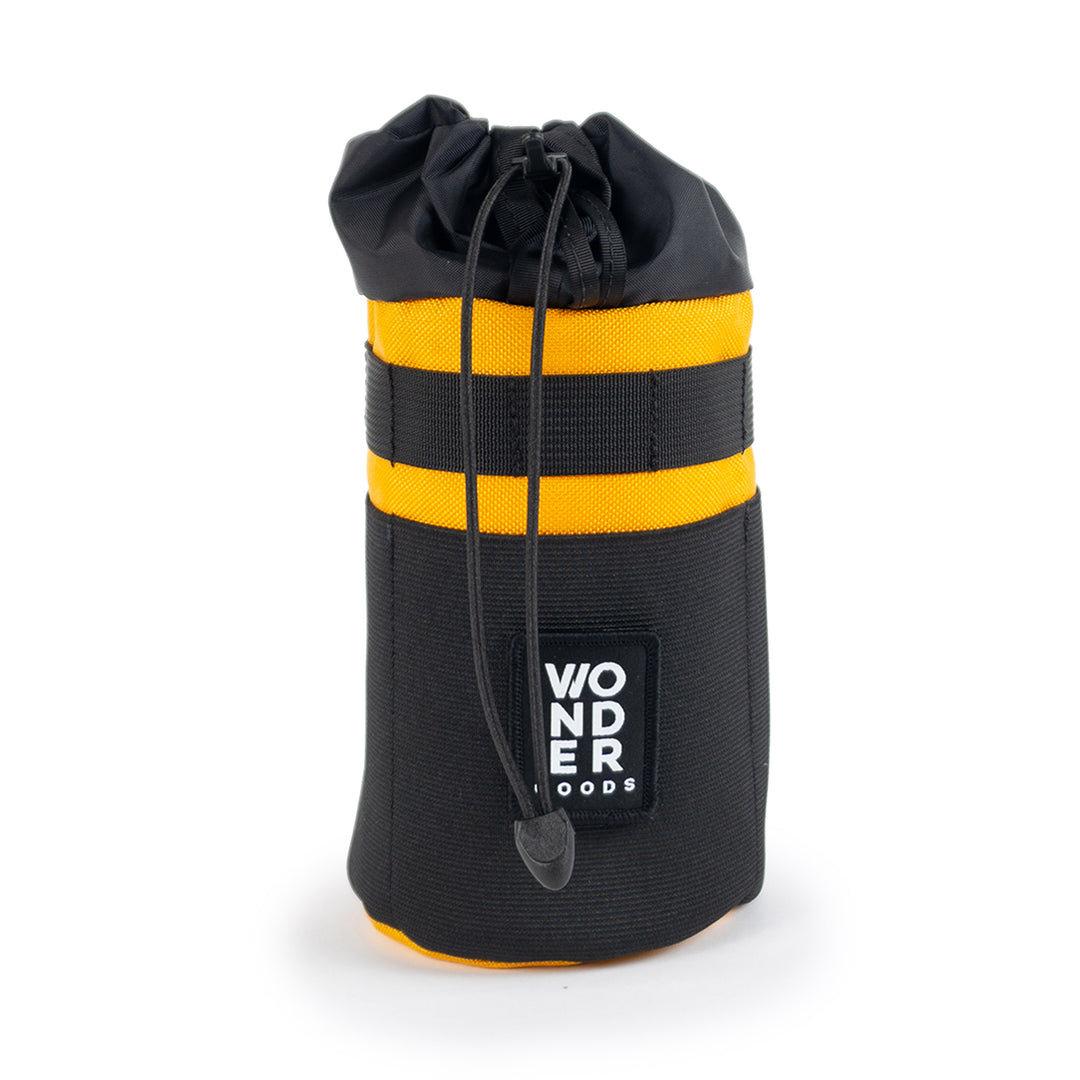 Materials
• 1000D coated Cordura™ water-repellent exterior fabric
• 200D water repellent pack cloth interior lining
• 1" soft touch Velcro One-Wraps™
• 1" nylon webbing
• Closed-cell foam
• Nylon binding
• 1/8" Shock-cord
• Solid brass grommet
• 5" Elastic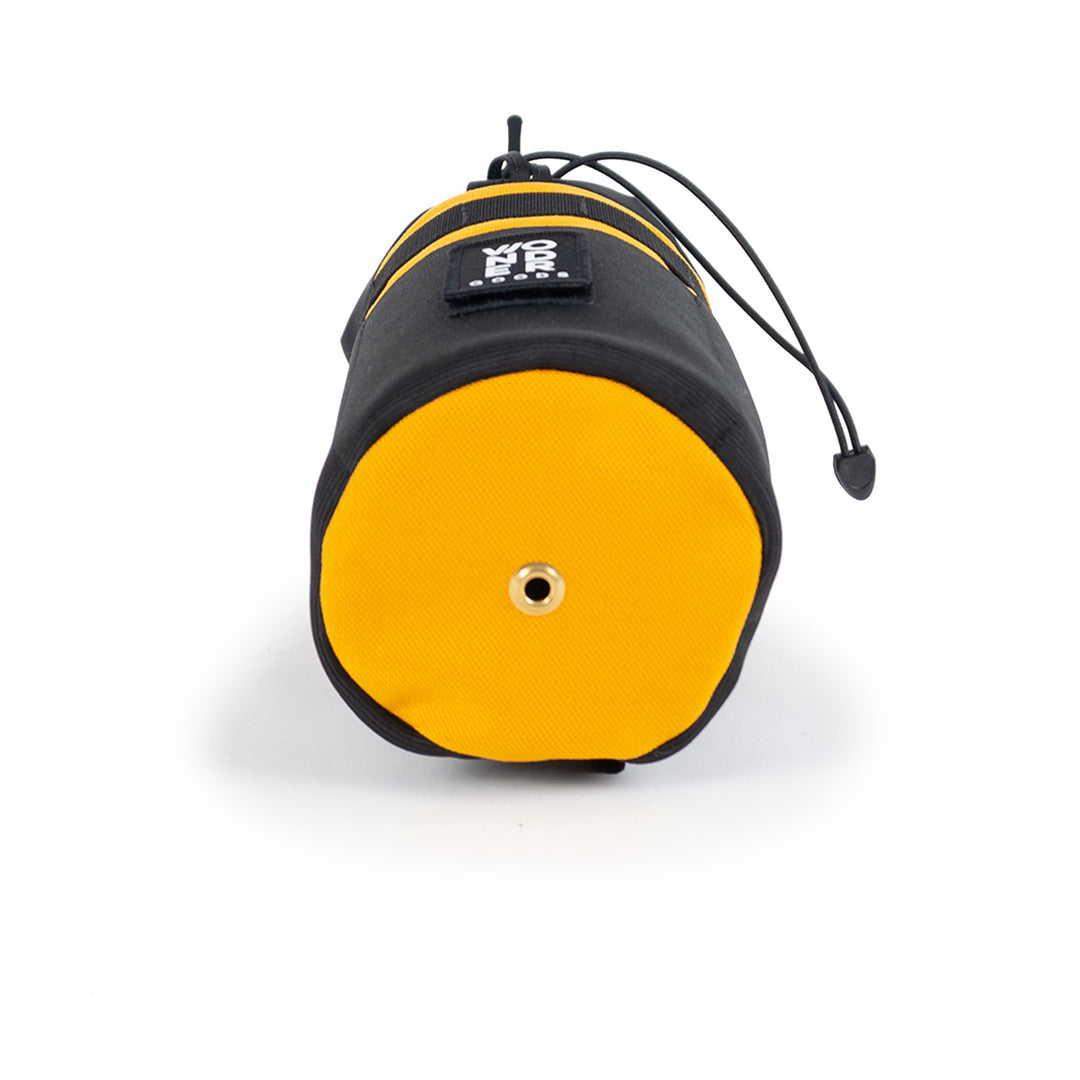 Features
• Easy one-handed open and close cinch top
• Lined weather-proof interior fabric
• Fits up to a 32-40 oz water bottle
• Adjustable & Removable 1" Velcro One-Wraps™ for quick and easy mounting to handlebars
• Weather-proof exterior fabric
• 3 exterior elastic pockets
• Brass grommet vent on base
•Foam insulation/padding to protect belongings
• Rear bottom bungee anchor attachment for secondary securing option
• Nylon-bound interior seams for extra water protection and cleaner interior
• Molle compatible & adjustable
• Interchangeable front Velcro™ patch (more available here)
• Made in the USA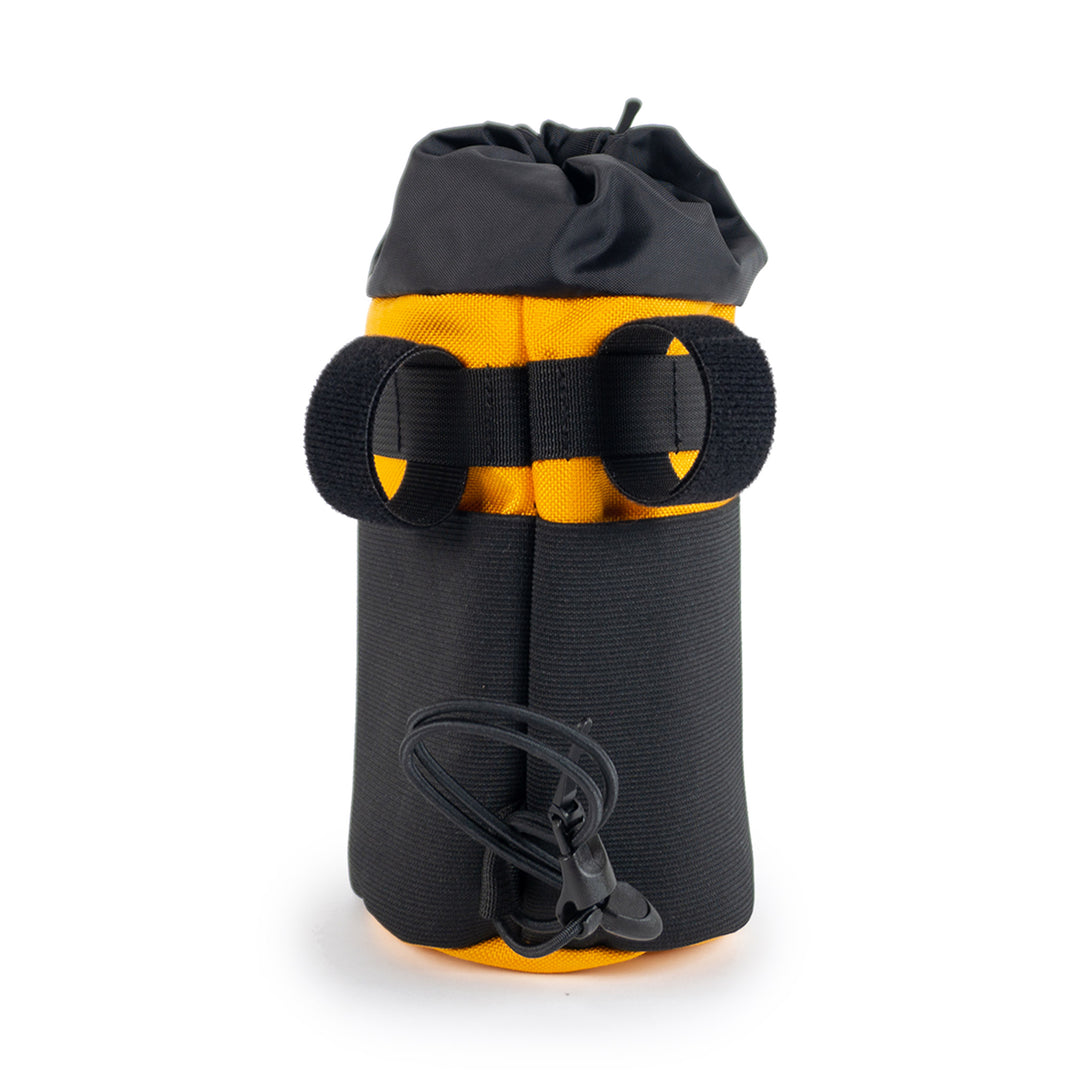 Measurements
• 4" diameter
• 7" tall (when closed)
• 10" tall (fully opened)
• 7"L x 1"W Velcro One-Wraps™
• 10"L elastic bungee anchor
• Bag weight = 4.5oz (bag only)
• Total weight = 5oz (with attachments)
What our customers are saying!
★★★★★

This bag rox!

A stylish, perfect size bag for a really great price point. I've filled this thing with gummy snacks and energy chews for adventure rides, fruit, cheese, and a sandwich for long hauls, a big ol' iced coffee for my morning commute, and even a tall boy for the pregame ride to the pregame. Love the way this bag looks on my bike and love how it holds a whole lot without getting in the way.
★★★★★

One Bag to Rule Them All

I picked up a stem bag from Wonder a while back and rarely leave home without it. Sometimes it's the only bag on my bike, and at different times I've used it to carry things ranging from a large chain lock, a small handful of tools (flat fix kit+), a plethora of snacks, even small rain jackets. These bags can fit more than you'd think in them, but are never overkill, and will fit on nearly any bike. Stem bags are also great solutions to bikes that can't take a traditional bottle cage, like really small, or really old bikes, or full-suspension mountain bikes. Keep one on your bike at all times, just in case, or throw two on to round out your storage capacity for a tour or bikepacking trip.

Web
★★★★★

I Wonder how Good this bag is?

Wonder no more, this bag is really good! This bad bb is big enough for a Nalgene, 40oz of Freedom, a burrito, fists full of candy, and many other goods, although, I wouldn't try to stuff these all in at the same time.